The latest buzzword on the Internet is citizen developers in an ever evolving landscape of new technologies, new words, and new phrases. But what is a citizen developer? According to Gartner Glossary, a citizen developer is an employee who creates application capabilities for consumption by themselves or others, using tools that are not actively forbidden by IT or business units. A citizen developer is a persona, not a title or targeted role. They report to a business unit or function other than IT. All citizen developers are business technologists. However, all business technologists are not necessarily citizen developers. There is no required designation of proficiency or time allocation for citizen developers but they must be legal employees of an organization. In a nutshell, a citizen developer is a business professional that is not IT or IT-trained professional in such fields as marketing, finance, accounting, operational, human resources and others, who see opportunities for using technologies to improve efficiency and functionality in a digital transformation era. They are the first ones to see the problem, and are able to come up with a solution on their own without going through the IT department.
Businesses are understanding the new landscape of technology, going from personal to professional seamlessly, and able to understand technology. According to Gartner, 61% of businesses have used or plan to engage citizen developers. The question must be asked is why is citizen development on the rise? From an IT perspective, more companies and organizations are trying to go digital and automate their processes. As a result, there is a need to coordinate efforts and many tasks to build new tools and solutions in order not to fall behind and lose its competitive edge. There is a huge backlog of wants and needs but limited budgets and trained IT professionals to take on these projects.
From a business perspective, there are tools out there that empower business professionals to create everything from simple apps to advanced one. The rise of low code no code platform development enables business professionals with understanding business needs and problems first hand to solve them by creating apps. This leads to a faster and more efficient way to implement new tools. Furthermore, these apps are built by the end users, they know exactly the requirements; thus, less requirements gathering and planning. The entire business team can collaborate and create applications for their needs.
From Gramener, we can compare and differentiate citizen development vs professional development to get ideas and what's best for each organization.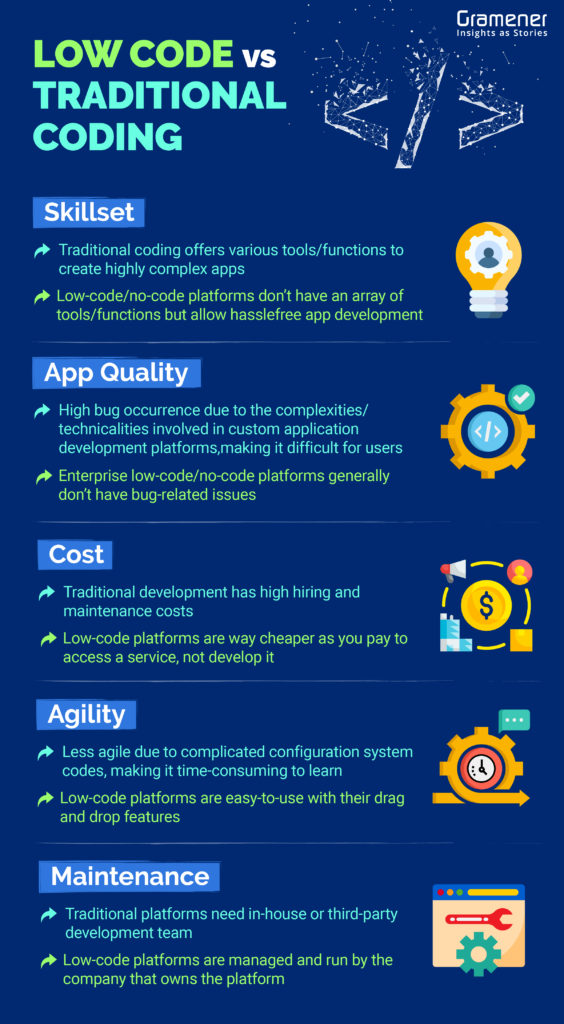 Of course, there are advantages and disadvantages to citizen development. The idea is to find the right mix and what works for your organization.
Advantages
Greater employee autonomy as business users solve their own problems.
Shorter development lifecycle and increased productivity.
Reduced burden on IT.
Less need for training.
More control over identities, roles and permissions.
Disadvantages
Defining the boundary between IT and the business.
Enabling citizen developers and adoption of the tools.
Governing the platform.
Encountering inefficient or poorly designed applications and processes.
Probably some of the best use cases for citizen developers involving automation because of simple, objective tasks that are low-cost but can deliver big bang for the buck. It is best to look for use cases that can speed up processes and free up IT resources.
Task Automation – smart forms and approvals to support HR or IT help desk.
Workflow Automation – end-to-end processes since citizen developers can improve business processes and workflows.
Reasoning Automation – intelligent processing, machine learning, chatbots, data analytics may benefit from a second look and from the point of view of business end users.
Sources: